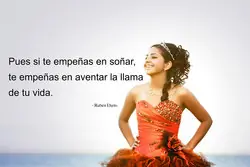 All across Latin America, girls anxiously await their fifteenth birthdays. Quinceañera traditions may vary among Latin cultures, but almost all of them consider it to be a rite of passage, the moment a girl enters womanhood.
If you are looking for the right words to accompany such a special celebration, you might find inspiration in the following quotes.
Whether you are looking for quotes to put in an invitation, or you want something nice to write on a congratulatory card, a good idea to find inspiration is to pick the brains of some big names in Spanish-speaking culture.
La edad, por sí sola, no hace a nadie mejor ni más sabio, solo acentúa lo que cada uno ha sido siempre.
Age, on its own, does not make anyone better or wiser; it simply accentuates what they have always been.
By Chilean author Isabel Allende.


La vida es una tapicería que se borda día a día con hilos de muchos colores, unos pesados y oscuros, otros delgados y luminosos, todos los hilos sirven.
Life is a tapestry that is woven every day with threads of every color; some are dark and heavy, others are light and thin; every thread is useful.
By Chilean author Isabel Allende.
El tiempo que se disfruta es el verdadero tiempo vivido.
Time that is enjoyed is time that is truly lived.
By Argentinian writer and psychotherapist Jorge Bucay.
Si es bueno vivir, todavía es mejor soñar, y lo mejor de todo, despertar.
If living is good, dreaming is even better, and being awake is the best.
By Spanish poet Antonio Machado.


No es verdad que la gente pare de perseguir sus sueños porque sean mayores, se hacen mayores porque dejan de perseguir sus sueños.
It isn't true that people stop chasing their dreams because they grow old; they grow old because they stop chasing their dreams.
By Colombian author Gabriel García Márquez.


Pues si te empeñas en soñar, te empeñas en aventar la llama de tu vida.
If you keep on dreaming, you keep on fanning the flame of your life.
By Nicaraguan poet Rubén Darío


No rechaces tus sueños. ¿Sin la ilusión, el mundo qué sería?
Do not reject your dreams. Without hope, what would the world become?
By Spanish poet Ramón de Campoamor.


No te rindas, por favor no cedas, aunque el frío queme, aunque el miedo muerda, aunque el sol se esconda y se calle el viento, aún hay fuego en tu alma, aún hay vida en tus sueños.
Do not give up, please, do not give in, even if the cold burns you, even if fear bites you, even if the sun hides and the wind becomes silent, there is still fire in your soul, there is still life in your dreams.
By Uruguayan author Mario Benedetti.


Porque la vida es tuya y tuyo también el deseo, porque cada día es un comienzo nuevo, porque esta es la hora y el mejor momento.
Because life is yours and so is desire, because every day is a new start, because this is the hour and the best time.
By Uruguayan author Mario Benedetti.


Queda prohibido no sonreír a los problemas, no luchar por lo que quieres, abandonarlo todo por miedo, no convertir en realidad tus sueños.
It is hereby forbidden to not smile at problems, to not fight for what you want, to give it all up in fear, to not turn your dreams into reality.
By Chilean poet Pablo Neruda.
La juventud es la edad del crecimiento y del desarrollo, de la actividad, y de la viveza, de la imaginación y del ímpetu.
Youth is the age of growth and development, of activity and vivacity, of imagination and momentum.
By Cuban intellectual José Martí.


La juventud es solo un momento, pero encierra una chispa que se lleva en el corazón para siempre.
Youth is only a moment, but it holds a spark that is carried in the heart forever.
By Paraguayan writer Rafael Barrett.


Ser joven no es tener pocos años. Es conservar viva la ilusión en el alma y despierta la capacidad en el espíritu para soñar; es vivir con intensidad y lleno de fe el corazón.
Being young is not about being few years old. It is about keeping illusion alive in your soul and keeping the ability to dream alive in your spirit; it is about living with intensity and with a heart filled with faith.
By Puerto Rican philanthropist Luis A. Ferré.


La juventud, en todas partes, es atrayente, animosa y vencedora.
Youth, everywhere, is appealing, spirited and victorious.
By Nicaraguan poet Rubén Darío.
If you are more musically inclined, you might want to draw inspiration from some popular quinceañera songs:
Esa niña de largos silencios
volaba tan alto que
mi mirada quería alcanzarla
y no la podía ver.
La paraba en el tiempo pensando
que no debería crecer,
pero el tiempo me estaba engañando
mi niña se hacía mujer.

That girl of long silences
flew so high
that my gaze wanted to reach her
but could not see her.
It stopped in time thinking
that she shouldn't grow up
but time was tricking me
my girl was turning into a woman.

From "De niña a mujer" by Julio Iglesias

Hoy es el día de tus quince años
aunque parezca un día normal
Hoy es cuando todo lo que tú has soñado
por tantos años se convierte en realidad.

Today you turn fifteen
and even though it seems like a normal day
Today everything you've dreamt of
for so many years, becomes true.

From "Regalo de quinceañera" by Rakim and Ken-Y

Será tal vez tu día mas deseado,
una ilusión el sueño mas amado,
te sentirás una mujer ya no eres niña
y en este día vivirás deprisa...

It might be the day you've most wished for,
your hope, your dearest dream,
you will feel like a woman, no longer a girl
and in that day, you will live so fast...

From "Quince primaveras" by Vicente Fernández

Ahora me enciende como un sol, la primavera
mis sueños se convierten en promesas
me cambia el corazón de quinceañera

Now, spring makes me shine like the sun,
my dreams become promises,
my quinceañera heart changes me

From "Quinceañera" by Thalía

Hay recuerdos que no voy a borrar
personas que no voy a olvidar
hay aromas que me quiero llevar
silencios que prefiero callar

There are memories I won't erase
people I won't forget
smells I want to take with me
silences I want to keep silent

From "Recuerdos que no voy a olvidar" by Fito Paez.
Kind Thoughts for Quinceañeras
Finally, if the quotes and songs above weren't quite what you are looking for, below is a list of thoughtful anonymous phrases you can dedicate to a quinceañera:
Disfruta, sueña, ama, vive la vida que tienes por delante con la ilusión de este día en que cumples quince años.
Enjoy, dream, love, live the life that's ahead of you with the hope you feel this day, when you are turning fifteen.


En este día atrévete a soñar, explora tus fantasías, abre los ojos a esta hermosa vida que tienes por delante.
Today, dare to dream, explore your fantasies, open your eyes to this beautiful life that lies ahead of you.


Que sepas aprovechar esta hermosa edad y que siempre sigas el camino que te conduzca al éxito.
May you make the most of this beautiful age and may you always follow the path to success.


Hoy sentirás el cariño y aprecio de todas las personas que te acompañarán a celebrar tu cumpleaños, que siempre estés rodeada de personas sinceras.
Today, you will feel the love and affection of everyone who will celebrate your birthday with you, may you always be surrounded by honest people.


Tienes en la palma de tu mano la juventud, la belleza, la vida. Disfruta y sé feliz.
In the palm of your hand are youth, beauty, life. Enjoy them and be happy.


Que el amor, la amabilidad, la paciencia y la tolerancia adornen tu vida.
May love, kindness, patience and tolerance adorn your life.
A quinceañera is a truly special moment in many girls' lives. So, whatever quote you choose, make sure it comes from the heart!