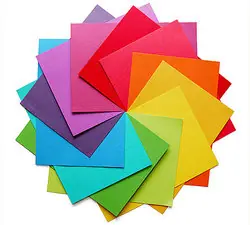 Aprender los nombres de los colores es muy útil en cualquier idioma. Saber usarlos te permitirá describir todo tipo de cosas y comunicarte en todo tipo de situaciones: desde ir de compras, hasta buscar un objeto perdido. Presta atención a las palabras que siguen y lograrás que tu mundo sea tan colorido en inglés como en español.
Los colores primarios (primary colors) son los colores más básicos, aquellos a partir de los cuales se forma el resto, así que, ¿por qué no empezar por ellos? Estos son los colores primarios tradicionales en inglés:
Red - Rojo
Yellow - Amarillo
Blue - Azul Si ya conoces los colores primarios, tiene sentido seguir por los secundarios (secondary colors). Es decir, los que se forman mezclando dos colores primarios. Estos son sus nombres en inglés:
Orange - Naranja
Purple - Morado/Violeta
Green - Verde
Los colores primarios y secundarios son solo el comienzo, hay muchos otros que usamos a diario. Repasemos los nombres de algunos de los colores más comunes en inglés:
Black - Negro
White - Blanco
Grey - Gris
Brown - Marrón
Pink - Rosado
Lilac - Lila
Sky-blue - Celeste
Teal - Verde azulado/Petróleo
Gold - Dorado
Silver - Plateado
Bronze - Bronce
Copper - Cobre
Cómo hablar sobre los colores en inglés
Los colores suelen utilizarse como adjetivos. En inglés, esto significa que se dicen antes de la cosa a la que describen. Puedes ver esto en los siguientes ejemplos:
The red hat. - El gorro rojo.
The black pen. - La lapicera negra.
The white houses. - Las casas blancas.
Además, como puedes ver, en inglés no debes preocuparte por el número o el género de los adjetivos, y esto también se aplica a los colores.
Para describir el color de algún objeto, puedes utilizar el verbo to be:
My sweater is blue. - Mi buzo es azul.
That book is yellow. - Ese libro es amarillo.
Their shoes are white. - Sus zapatos son blancos.
Con esto en mente, veamos algunas frases y palabras que suelen utilizarse para hablar de los colores:
Dark - Oscuro
Bright - Brillante
Light - Claro
Transparent/Clear - Transparente
Shade - Tono
She has blue eyes. - (Ella) tiene ojos azules.
What color are... (your eyes)? - ¿De qué color son... (tus ojos)?
What color is... (your suitcase)? - ¿De qué color es... (tu maleta)?
I am looking for a black dress. - Estoy buscando un vestido negro.
Repasa este vocabulario y no lo dejes para mañana. ¡Te sorprenderá lo útil que es saber los colores en inglés!