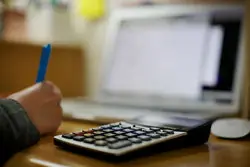 In modern times, money and finance have become a part of every adult's life. Whether you are moving to a new country, learning Spanish for work or simply for fun, chances are you will find yourself discussing these topics at some point.
Let's go over some of the things you must know to handle some common accounting situations in Spanish.
Some Important Vocabulary
A good place to start is with some of the most important terms you might need when talking about finances or accounting.
El banco - Bank
La cuenta - Account
La caja/cuenta de ahorros - Savings account
La cuenta corriente - Checking account
El estado (de cuenta) - (Account) statement
El saldo (de cuenta) - (Account) balance
Los intereses - Interests
El cajero automático - ATM
El cheque - Check
La chequera - Checkbook
El débito – Debit
El dinero - Money
El crédito - Credit
El efectivo - Cash
Quiero... - I want to...

Retirar dinero - Withdraw money
Hacer un depósito - Make a deposit
Transferir dinero - Transfer money
Bookkeeping And Financial Statements
El contador/La contadora - Accountant
La contabilidad - Accounting
La teneduría de libros - Bookkeeping
La fecha - Date
El año/ejercicio fiscal - Fiscal year
La firma - Signature
El activo - Asset
El pasivo - Liability
La deuda - Debt
El préstamo - Loan
Los fondos - Funds
El impuesto - Tax
El IVA - VAT
(Cuenta) Por pagar - (Account) Payable
(Cuenta) Por cobrar - (Account) Receivable
Los gastos - Expenses
Los ingresos - Revenue
La ganancia - Profit
Deducible - Deductible
El déficit - Deficit
El flujo de caja - Cash flow
Neto/a - Net
Bruto/a - Gross
El inventario - The inventory
La nómina - Payroll
El libro mayor - Ledger
El libro diario - General journal
El balance general - Balance sheet
La contabilidad por partida simple/doble - Single/Double entry accounting
Trimestral - Quarterly
As always, it's a good idea to see these terms in action, so let's take a look at a conversation you might encounter when discussing your finances in Spanish:
¿Los extranjeros deben pagar IVA?
(Do foreigners need to pay VAT?)
No, pero deben presentar un estado financiero.
(No, but they must submit a financial statement)
¿Debe ser un estado trimestral?
(Does it need to be a quarterly statement?)
No, puede presentarse al final del año fiscal.
(No, it can be submitted at the end of the fiscal year)
¿Qué debe incluir?
(What does it need to include?)
Debe incluir sus ganancias, sus activos y sus pasivos, además de su flujo de caja.
(It needs to include your profits, your assets and your liabilities, as well as your cash flow)
Now that you've got most of the words down, it's time to look at the numbers. There are a few things you should be aware of if you work with financial documents in Spanish:
Dates in Spanish usually follow a day-month-year format.
Decimals can be separated by either points or commas. Countries like Mexico, which are closer to the US, tend to prefer a point, while other countries like Spain or Argentina tend to go for the comma.
Thousands are often separated by points or even blank spaces.
Remember this to avoid confusion when you go over financial information in Spanish.
With that in mind and the above vocabulary, you should be ready to discuss financial information in Spanish without problems!