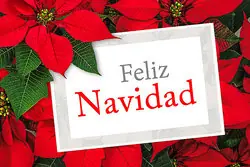 While a white Christmas may not be so common in usually warmer Spanish-speaking countries, most of the Christmas traditions of the English-speaking world also translate into Spanish.
Take a look at some words and expressions that will help you celebrate Christmas with friends and family across language barriers.
Let's start with the basics: how to wish someone a merry Christmas in Spanish. Here are some common Christmas greetings and well wishes:
¡Feliz Navidad! - Merry Christmas!
¡Felices fiestas! - Happy holidays!
¡Feliz Navidad y próspero Año Nuevo! - Merry Christmas and a happy New Year!
Que pases lindo esta Navidad. - Have a nice time this Christmas.
¡Te deseo una feliz Navidad! - I wish you a Merry Christmas!
¡Mis mejores deseos para esta Navidad! - All my best wishes for this Christmas!
Brindo por - I toast to...
Knowing how to wish someone a merry Christmas is definitely helpful around Christmas time, but you'll need some more vocabulary if you want to move the conversation further. Pay close attention to the lists below and expand your Christmas vocabulary.
La Navidad - Christmas
La Nochebuena - Christmas Eve
El día de Navidad - Christmas Day
La medianoche - Midnight
El árbol/arbolito de Navidad - Christmas tree
Los adornos - Decorations
La guirnalda - Garland
El muérdago - Mistletoe
Las luces - Lights
El turrón - Nougat (a common food around Christmas time in most Spanish-speaking countries)
El mazapán - Marzipan
Las galletas/galletitas - Cookies
Los frutos secos - A general term for nuts, almonds and the like.
El panettone/El pan dulce - Panettone
El lechón - A pork-based dish, a young pig.
El pavo - Turkey
El cordero - Lamb
El champán - Champagne
El vino - Wine
La sidra - Cider
Los regalos - Presents
Abrir los regalos - Open the presents
La cena - Dinner
Comer -To eat
Brindar - To make a toast
El brindis - Toast
La fiesta - Party
Papá Noel/San Nicolás - Santa Claus
El trineo - Sleigh
Los renos - Reindeer
El villancico - Christmas carol
La tarjeta - Card
Even though nowadays Christmas is celebrated by people of different beliefs, it was originally a Christian holiday. This is especially noticeable in Spanish-speaking countries, where the majority of the population is usually Christian. With this in mind, it is useful to learn some more religious Christmas vocabulary in Spanish, whether you are religious yourself or not.
¡Que Dios te bendiga! - May God bless you!
El niño Jesús - Baby Jesus
La virgen María - Virgin Mary
La iglesia - Church
La misa - Mass
La Misa de Gallo - A Christmas mass held around midnight.
¿A qué hora es la misa? - At what time is mass held?
¿Dónde es la misa? - Where is mass held?
El belén/pesebre - Nativity scene
Whatever your beliefs, Christmas is always a great excuse to get together with your loved ones and celebrate. Study the vocabulary above to spread the love in a second language.
¡Feliz Navidad!