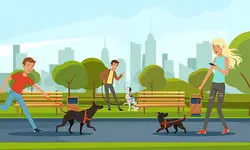 Yo usualmente saco a mi perro en las mañanas.
Learning the vocabulary words used for describing your daily routine in Spanish is very valuable. You are likely to use these ubiquitous words again and again in conversation. Every day you get up, brush your teeth, take a shower, get dressed, and have breakfast before going to work or school, don't you? This means must-know Spanish words such as the days of the week, frequency adverbs, and daily routine vocabulary have to become your best friends or you may struggle to communicate some basic information in Spanish.
Before we start you should note that several verbs on this list have reflexive forms (se), which are the type of verbs that you'll use when the subject is acting on himself or herself, such as someone brushing their teeth.
Despertar (se) - To wake up
Example: Normalmente despierto a las 6:00 am. - I usually wake up at 06:00 am.
Levantarse - To get up
Example: Me levanto a las 06:30 am. - I get up at 06:30 am.
Cepilarse los dientes - To brush one's teeth
Example: Ella se cepilla los dientes luego de levantarse. - She brushes her teeth after getting up.
Hacer la cama - To make one's bed
Example: Yo nunca hago la cama en la mañana. - I never make my bed in the morning.
Ducharse - To take a shower
Example: Tomé una ducha fría esta mañana. - I took a cold shower this morning.
Vestirse – To get dressed
Example: Siempre me visto luego de ducharme. - I always get dressed after taking a shower.
Irse - To go
Example: Me voy al trabajo a las 8:30am. - I go to work at 8:30am.
Preparar (la comida) - To make food
Example: Yo preparo el desayuno antes de irme a trabajar. - I make breakfast before going to work.
Desayunar - To have/eat breakfast
Example: Siempre desayuno en mi casa. - I always have breakfast at home.
Almorzar - To have/eat lunch
Example: ¿Vas a almorzar con nosotros? - Are you going to have lunch with us?
Cenar - To have/eat dinner
Example: Quiero cenar pizza. - I want to have pizza for dinner.
Comenzar a trabajar - To start work
Example: Comienzo a trabajar a las 9:00 am. - I start work at 9:00am.
Salir de trabajar - To get off work
Example: Ellos salen del trabajo a las 5:00pm. - They get off work at 5:00pm.
Trabajar - To work
Example: Trabajo de 9 a 5. - I work from 9 to 5.
Comenzar clases – To start classes
Example: Ella comienza clases a las 7:45 am todos los días. - She starts clases at 7:45 am every day.
Llegar a casa - To get/arrive home
Example: Mi hermano llega a casa a las 8:00pm. - My brother gets home at 8:00pm.
Estudiar - To study
Example: Estudio francés todos los sábados. - I study French on Saturdays.
Ver la tele/television - To watch TV
Example: Veo la tele todas las tardes. - I watch TV every afternoon.
Escuchar música - To listen to music
Example: Escucho música cuando estoy triste. - I listen to music when I'm sad.
Revisar las redes sociales - To check one's social media platforms
Example: Siempre estoy revisando mi Facebook. – I'm always checking Facebook.
Desvestirse - To get undressed
Example: Ella se desvistió y se fue al baño. - She got undressed and went to the bathroom.
Irse a dormir - To go to bed
Example: Me fui a dormir temprano. - I went to bed early.
Dormirse - To fall asleep
Example: Me dormí muy rápido. - I fell asleep very fast.
Lunes - Monday
Example: Yo no trabajo los lunes. - I don't work on Mondays.
Martes - Tuesday
Example: Ella tiene clases de cocina los martes. - She has cooking lessons on Tuesdays.
Miércoles - Wednesday
Example: Tengo una reunión el miércoles. - I have a meeting on Wednesday.
Jueves - Thursday
Example: El jueves debo ir al dentista. - I have to go to the dentist on Thursday.
Viernes - Friday
Example: Siempre voy al cine los viernes. - I always go to the movies on Fridays.
Sábado - Saturday
Example: Juego fútbol todos los sábados. - I play soccer on Saturdays.
Domingo - Sunday
Example: No hago nada los domingos. - I do nothing on Sundays.
Spanish Frequency Adverbs
Normalmente – Normally
Example: Normalmente desayuno antes de salir de la casa. - I normally have breakfast before leaving the house.
Usualmente - Usually
Example: Yo usualmente saco a mi perro en las mañanas. - I usually take out my dog in the morning.
A menudo - Often
Example: ¿Vienes por acá a menudo? – No, de hecho, no. - Do you come around often? No, actually, I don't.
Frecuentemente – Frequently
Example: Ella va al gimnasio frecuentemente. - She goes to the gym frequently.
Regularmente – Regularly
Example: Mi hermano limpia su habitación regularmente. - My brother cleans up his room regularly.
A veces - Sometimes
Example: A veces voy a correr. - I sometimes go for a run.
Pocas veces - Rarely
Example: Yo visito a mis primos pocas veces. - I rarely visit my cousins.
Todos los días - Every day
Example: Yo voy a la escuela todos los días. - I go to school every day.
Nunca - Never
Example: Yo nunca hago ejercicio. - I never do exercise.
Siempre - Always
Example: Yo siempre me quedo en casa los fines de semana. - I always stay in on the weekend.
Boost Your Spanish Fluency
After reading this article you may want to go back to your first Spanish lessons and refresh your memory some more. If this is your first dip into Spanish vocabulary, you now have lots of words and phrases to familiarize yourself with. As we have said before, don't underestimate the power of basic Spanish language; it is the foundation of many more things to come.
As you go about your daily routine try thinking of the Spanish words for what you are doing. It will help boost your fluency.