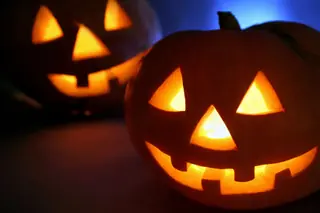 Halloween Vocabulary in Spanish Words
Here are some Spanish Halloween words:
arana - spider
aterrador - scary
bruja - witch
calabaza - pumpkin
caramelos - candy
carabela – skull
disfraz - costume
dragon - dragon
dulce - sweets, candy
embrujado - haunted
escoba - broom
esqueleto - skeleton
extraterrestre – extraterrestrial
fantasma - ghost
fiesta - party
gato negro - black cat
gigante - giant
grave - tumba
horror - horror
hombre lobo - werewolf
lápida – tombstone
magia - magic
maquillaje - make-up
mascara - mask
misterioso - mysterious
momia - mummy
monstruo - monster
murcielago - bat
ogro - ogre
telarana - web
tela de arana - spider web
troll - troll
vampire - vampiro
Resources for Spanish Halloween Words
You can take the previous list of Halloween vocabulary in Spanish words and go online to make your own word search puzzles or crossword puzzles. Here are several good sites:
Now that you have a list of Halloween vocabulary in Spanish words and some resources, let look at the two holidays celebrated in the United States and Mexico at the end of October.
The Day of the Dead, or El Día de los Muertos, is similar to Halloween in that it starts on midnight on October 31st and has to do with the dead. Common customs include making altars in the home for the dead and decorating their graves. However, the origins of the two holidays are quite different. Let's look at the origins of these two days.
The Day of the Dead is about remembering those who have died. The celebration lasts until November 2nd and is one of the biggest holidays in Mexico. Its origin comes from the Aztecs, who observed a month long celebration in the summer that was presided over by the goddess Mictecacihuatl, who is called the Lady of the Dead. Later, when Catholicism became the main religion in Mexico, this celebration was merged with All Saint's Day on November 1st.
The American holiday of Halloween started with the Celtic people in what are now Ireland and some surrounding areas. Their New Year started on November 1st and it was believed that on October 31st, the worlds of the living and dead became blurred and the ghosts of the past dead returned to earth.
One good thing about the day was that the Druid priests thought they could better predict what would happen the next year when the ghosts were around. The festivities included bonfires, animal sacrifices, and wearing costumes.
When the Romans conquered the Celts, they combined this celebration with two of theirs: Feralia, when they remembered the dead, and a day to honor the Roman goddess of trees and fruit, Pomona. By the 9th century, the Catholic church designated All Saints Day as a day to remember saints and martyrs, and it was celebrated on November 1st. It was also called All Hallows, and eventually the night before became All Hallows Eve, and then, Halloween.