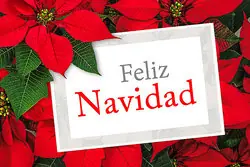 For many people, music is an important part of everyday life, and it becomes even more vital at holiday times. Learning about holiday songs in Spanish teach us about the language, but also the culture.
In Spanish, Christmas carols are known as villancicos or cantos de navidad. When you think about the Christmas season, you probably think about that one phrase that everyone knows or at least has heard: Feliz Navidad. These two words happen to be the title of a very popular seasonal song.
Feliz Navidad (Merry Christmas)
Feliz Navidad, written by the Puerto Rican singer José Feliciano in 1970, is more than just a Christmas pop song; it is a Christmas symbol. It is widely sung throughout the Spanish-speaking world (including Spain and Latin America) and of course, in the United States as well. While the first verse in the original song was written in English, there is a Spanish version for it.
If you want to sing along with this Spanish holiday classic, this is how the song goes:
Chorus
Feliz Navidad
Feliz Navidad
Feliz Navidad
Prospero Año y Felicidad (bis)
Verse
A todos quiero desearles siempre
Felicidad, es un gran presente
Es el momento de que disfruten
En el tiempo de amor y paz
Mi Burrito Sabanero (My Savannah Little Donkey)
Mi Burrito Sabanero is considered a standard Christmas song in many parts of Latin America. Sung at school or at home, this catchy song always comes back in December to get everyone in the mood for gifts, food, joy, and love.
This is how the chorus and the first verse go:
Chorus
Con mi burrito sabanero
Voy camino de Belén,
Con mi burrito sabanero
Voy camino de Belén,
Si me ven, si me ven
Voy camino de Belén (bis)
Verse
El lucerito mañanero ilumina mi sendero,
El lucerito mañanero ilumina mi sendero
Si me ven, si me ven
Voy camino de Belén
Los Peces en el Río (The Fish in the River)
Los Peces en el Río- The Fish in the River: this is another typical Christmas song in Latin America and Spain. It talks about the fish, who are excited about the birth of the baby Jesus, and the Virgin Mary doing daily chores. There is also an English version for this song as it has become another anthem to play non-stop during Christmas season.
Verse
La Virgen se está peinando
Entre cortina y cortina,
Los cabellos son de oro
Y el peine de plata fina.
Chorus
Pero mira cómo beben
los peces en el río.
Pero mira cómo beben
Por ver al Dios nacido.
Beben y beben
Y vuelven a beber.
Los peces en el río
Por ver a Dios nacer.
Noche de Luz (Night of Light)
Noche de Luz is a less-known gypsy Christmas carol that is perfect for the holidays. Besides referring to the nativity scene, the song talks about the joy Christmas is supposed to bring every year. While its author is unknown, famous singers such Alejandro Sanz have performed it increasing its popularity.
Verse
Padre, hoy nos dejes solos
Rompe las cadenas
Y danos de tu luz
En la nochebuena
Chorus
Camino de Belén caminan los pastores
Camino de Belén van derramando flores
Camino de Belén que ya llegó el mesías
Camino de Belén el hijo de María
Getting in the Christmas Mood
In many Spanish-speaking countries, Christmas is a very special time of the year because it symbolizes happiness, joy, time spent with your family, and getting ready for a new year. Many Spanish-speaking people, especially in Latin America, take this season very seriously and have celebrations on Christmas Eve, where, of course, music plays a pivotal role.
There are some other songs that you could use to celebrate with your family and practice your Spanish skills. For example, Los Doce Días de Navidad, Navidad, Navidad, Noche de Paz, and Blanca Navidad, among others.
Spanish is, indeed, a very colorful language. When it comes to Christmas carols, you won't run out of options to choose from and will have lots of fun singing songs while practicing the pronunciation of many Spanish words. Think of this brief assortment of holiday songs in Spanish as a Christmas gift; your skills in the language will definitely be better next year.