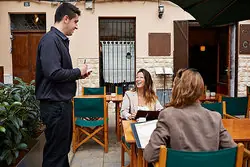 Let's be honest, one of the best things to do while in Latin America or Spain is eat! Keep this guide handy for for both reading menus and ordering food in Spanish-speaking countries.
Ordering Food and Drinks in a Restaurant
These phrases can be used to order food in any restaurant or at a street stand. It's always best to use formal expressions, even in less-formal environments (e.g. a taco stand in Mexico) because it shows respect. It is also important to learn questions and expressions you might hear from a waiter so you know how to respond.
| | |
| --- | --- |
| Waiter: ¿Qué van a tomar? | What would you like to drink? |
| Waiter: ¿Qué les traigo de tomar? | What can I bring you to drink? |
| Customer: Me gustaría/quisiera...una cerveza...por favor. | I would like...a beer…please. (formal) |
| Customer: ¿Me trae...un cafe...por favor? | Could you bring me...a coffee...please? (formal) |
| | |
| --- | --- |
| Waiter: ¿Les tomo la orden? | Can I take your order? |
| Waiter: ¿Qué desean comer? | What would you like to eat? |
| Customer: Me gustaría/quisiera...el pollo con verduras...por favor. | I would like... the chicken with vegetables...please. (formal) |
| Customer: Para mi...las enchiladas...por favor. | For me...the enchiladas...please. |
| | |
| --- | --- |
| Waiter: ¿Desean algo de postre o café? | Would you like a dessert or coffee? |
| Waiter: ¿Les puedo ofrecer algo mas? | Can I get you anything else? |
| Customer: No gracias. La cuenta por favor. | No thank you. The check please. |
| Customer: No gracias. ¿Nos puede traer la cuenta por favor? | No thank you. Could you bring us the check please? |
Cultural Note: In the United States, there is an unspoken cultural cue that when the waiter asks, Can I get you anything else? and you say no, he/she will bring the check. In Spain and Latin America, this is considered rude and, thus, a waiter will not bring you the check until you ask for it.
Spanish Words Related to Eating
Here is some general vocabulary related to dining that you may hear, or want to use while eating in a Spanish-speaking country.
la comida - food
el restaurante - restaurant
el desayuno - breakfast
la comida/el almuerzo - lunch
la cena - dinner
la cuenta - check
la propina - tip
el plato - plate
el vaso - glass
el tenedor - fork
la cuchara - spoon
el cuchillo - knife
los cubiertos - silverware
los antojitos - snacks/appetizers
los aperitivos/las entradas - appetizers/starters
el plato principal - main dish
las sopas y ensaladas - soups and salads
los postres - desserts
las bebidas - beverages
menú de desayuno - breakfast menu
menú del día - menu of the day (3-4 courses)
Cultural Note: Menu of the day options are normally served Monday to Friday, during lunch time at an economical price. In both Spain and Latin America, it is common to take a 1-2 hour lunch to enjoy a menu del día with friends and/or coworkers.
Spanish and Latin American cuisines are extensive and therefore, it's good to know a variety of food vocabulary when reading menus. The terms below are more or less universal across Spanish-speaking countries, however, keep in mind that many countries have special regionalisms.
Las carnes - meat (and other protein)
la carne de res - beef
el pollo - chicken
la pechuga de pollo - chicken breast
el pavo - turkey
el jamon - ham
el pato - duck
el tocino - bacon
el cordero - lamb
el cerdo - pork
los huevos - eggs
Los mariscos - seafood
el pescado - fish
el camarón - shrimp
la almeja - clam
la ostra/el ostión - oyster
la vieira - scallop
la langosta - lobster
el atún - tuna
el pulpo - octopus
La fruta - fruit
la manzana - apple
la naranja - orange
el platano/banano - banana
la uva - grape
la pera - pear
el limón - lime
la fresa - strawberry
la frambuesa - raspberry
la mora/la zarzamora - blackberry
el arándano azul - blueberry
el arándano rojo - cranberry
la cereza - cherry
el coco - coconut
el aguacate - avocado
Las verduras - vegetables
la lechuga - lettuce
el tomate - tomato
la zanahoria - carrot
el pepino - cucumber
el calabacín - zucchini
la calabaza - pumpkin
la col rizada - kale
el espárrago - asparagus
el ejote - green bean (Latin America)
la habichuela/la judía verde - green bean (Spain)
el brócoli - broccoli
la berenjena - eggplant
el apio - celery
la cebolla - onion
la espinaca - spinach
el chamiñión - mushroom
el maiz - corn
Los granos y las legumbres - grains and legumes
el frijol - bean
la lenteja - lentil
el papa/la patata - potato
el arroz - rice
Las bebidas - drinks
el agua - water
la leche - milk
el refresco/una soda - soft drink
una limonada - lemonade
el jugo de naranja - orange juice
el café - coffee
el té - tea
la cerveza - beer
el vino tinto/blanco - red/white wine
Los postres - desserts
el pastel - cake
el flan - custard
la galleta - cookie
el helado - ice cream
Now, you are all set to explore and enjoy the gastronomical wonders of Spain and Latin America. What are you going to eat first?