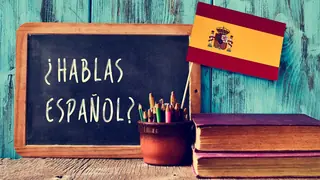 A Spanish English dictionary is incredibly valuable for translating Spanish to English, helping Spanish or English learners with learning new words, verb conjugations and more. A good bilingual Spanish English dictionary won't just offer you definitions and translations of words in both languages, it will also provide those words in context with example phrases and word usage tips so you won't find yourself lost in translation.
An even better Spanish English resource will provide additional useful information to strengthen your grammar knowledge and expand your vocabulary.
Luckily, YourDictionary's Spanish - English Dictionary does all of that. Keep reading to learn how to make the most out of this resource!
The main reason people go to dictionaries is to look up a specific word. There are two ways to do that with the Spanish English Dictionary at YourDictionary:
You will find the search bar on the top of the page in the Spanish section of the dictionary.

To use it, click on it and start typing the word you are looking for. As you start typing, you will see some suggestions below the search bar. If you see the word you are looking for, you can click on it to go straight to the definition and translation page.
You can also type the whole word you are looking for and either press enter or click on the orange button next to the search bar. This will show you the closest result to the word you searched for.
Use the search bar to look for words in both English and Spanish.
If you're unsure about the word you are looking for, you can always use the index. You will find it at the bottom of the page, under the title "Browse Spanish - English translation dictionary from YourDictionary".

The index works just like a paper dictionary would, with words listed alphabetically. This means that, if you are looking for cancel, you will have to look on the page buz-car. Each alphabetical group of words is a link that will take you to page where all the words in that range are listed. Keep in mind that Spanish and English words are intertwined. If a word is spelled the same in both languages, it will be tagged as "English" or "Spanish."
When you go to a word's definition page, YourDictionary will show you some common translations for that word. For easy navigation between words, keep in mind that the first translation is a link to the reverse word.
You will also get some additional information that will help you use the word, like whether it is an adjective, noun, adverb or verb, or if it's feminine or masculine, plural or singular, and more.
Many entries include a word's pronunciation, as well as example sentences, usage, and common idioms and expressions using those words.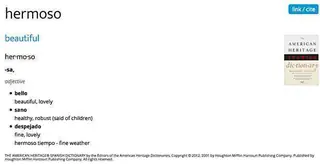 Check Out the Reference Section
Translations are great, but they are often not enough, and that's where the Spanish Reference section comes in.
In it, you will find numerous articles with Spanish vocabulary lessons, grammar tips and even verb conjugations, many of them including infographics, worksheets and other useful reference materials.
You can use these articles for anything, from learning to conjugate regular verbs in Spanish, to writing love letters or learning more about Spanish countries.
We are constantly updating this section with new articles, so look out for new things to learn!