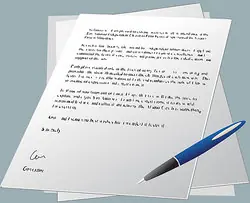 Nowadays, writing letters is not as common as it once was, but knowing how to properly write a letter is still a valuable skill in any language.
The guidelines below will help you write professional Spanish letters, and many of them can be used to write professional emails in Spanish as well.
Writing Formal Letters in Spanish
Most of the letters you will need to write will probably be formal letters addressed to companies, universities or government agencies. Customs with regards to formal letters may vary from country to country, but the following guidelines should cover the basics no matter who your recipient may be.
As with any formal text, remember to avoid slang or other informal language, and always address your audience using usted, the formal form of you.
To start a formal letter in Spanish, you need to state the city you are writing from and the date in long format. You can review how to write the date in Spanish here, but the end result will look something like this:
Madrid, 12 de septiembre de 2017
Madrid, September 12, 2017
Notice how this part is aligned to the right, and keep in mind that months and days of the week are not capitalized in Spanish.
After you've written down the date, you will want to address the person you are writing to. A common way to do this is by using the word estimado:
Estimado Sr. Gómez: - Dear Mr. Gómez,
Estimada Sra. Ríos: - Dear Ms. Ríos,
Keep in mind that Spanish speakers often mention their college degree or position before their name, for example:
Ing. Julio Pérez - Julio Pérez, Engineer
Prof. Nuria Lamas - Professor Nuria Lamas
Dr. Mauricio Benitez - Dr. Mauricio Benitez or Mauricio Benitez, PhD
In more formal letters, just mentioning the addressee may not be enough, and you will need to include more information about them, following the format below:
Sr./Sra. Name and Last Name
Position
Company or Institution
If this format is used, the estimado section may be omitted. In some cases, it is added right after the addressee's name, position and company have been mentioned.
If you don't know who will receive the letter, you can use expressions like the ones below:
A quien corresponda: - To whom it may concern,
Estimados señores: - Dear Sirs,
Once you have established who you are writing to, you can start the letter by explaining your reason for writing with phrases like the following:
Me comunico con usted para... - I write to you in order to...
El motivo de mi carta es... - The aim of this letter is to...
Por la presente solicito... - I hereby request...
Me dirijo a usted en ocasión de... - I write to you in order to...
After you have stated the reason for writing, you can use the next paragraphs to expand your ideas. Once you have made your case, you can use one of the following phrases as a closing line:
Cordialmente, y a la espera de una respuesta, me despido. - Cordially, and awaiting an answer, I send my regards.
Esperando una pronta respuesta, me despido. - I await a rapid answer and send my regards.
Sin otro particular, lo saludo. - Having nothing further to add, I send my regards.
Desde ya, agradezco el recibimiento de mi solicitud y aguardo su respuesta. - I thank you for receiving my request and await your reply.
This short closing line is followed by a short ending, like the ones below:
Atentamente, - Sincerely,
Cordialmente, - Cordially,
Un cordial saludo, - Best regards,
To finish off, sign your name and below write your name in print and add any relevant information, such as your own position and company.
Let's put all of these pieces together into a sample formal letter:
Londres, 10 de febrero de 2017
Dra. Luisa Sánchez
Decana de la Facultad de Medicina
Universidad de Santiago de Compostela
Estimada Dra. Sánchez,
Me comunico con usted para solicitarle información detallada sobre el programa de Enfermería Pediátrica que se dicta en su Facultad.
Más específicamente, me interesaría conocer los requisitos para estudiantes extranjeros, los costos de los cursos y, de ser posible, los mecanismos disponibles para solicitar becas.
Sin otro particular, la saludo.
Atentamente,
[Signature]
Katherine Jones
London, February 10, 2017
Dr. Luisa Sánchez
Dean of the School of Medicine
Santiago de Compostela University
Dear Dr. Sánchez,
I write to you to request information regarding the Pediatric Nursing Program taught in your School.
More specifically, I would like to know the requirements for foreign students, the costs of courses and, if possible, the mechanisms available to request scholarships.
Having nothing further to add, I send my regards.
Sincerely,
[Signature]
Katherine Jones
The guidelines for casual letters are much more relaxed than the ones explained above. You will be able to include more casual language, and you can use the informal tú instead of the more formal usted.
When it comes to format, casual letters are also more relaxed.
The date is sometimes added in short form but, like in formal letters, it is also aligned at the top right of the page.
If you are writing to a friend, close acquaintance or family member, estimado will probably sound too formal, and you definitely won't need to list their position. Instead, you can use the friendlier querido and the addressee's first name:
Querido Juan: - Dear Juan,
Querida Marina: - Dear Marina,
The body of the letter will follow a structure similar to the one you would use in English, starting by greeting the addressee and stating your reason for writing, and moving on to expand that reason in the following paragraphs.
How you end your letter will depend on how close you are to the person you are writing to, but here are some options:
Saludos - Regards
Un abrazo - Hugs
Un fuerte abrazo - Big hugs
Besos - Kisses
Keep in mind that you can use these opening and closing phrases, as well as the ones listed in the formal letters section, when writing emails in Spanish.
If you are writing to a university, they sometimes offer samples of the letter formats they prefer. If you are replying to a letter someone else has sent you, pay close attention to the format they followed. It will help you to know the appropriate format for your response. Like the saying goes: a donde fueres, haz lo que vieres (when in Rome...).