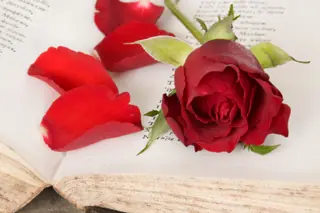 Spanish is one of the few romance languages and thus, has many distinct ways to express love. The language is unique in the fact that it not only uses adjectives, but also simple variations of verb conjugations to change the whole feeling of a sentence. Spanish and Latin American poets have used these small nuances to create rich pieces of writing over the centuries. The following poems, quotations and proverbs will give you some insight into the beauty of the Spanish language.
Everyday Expressions of Love
te amo → I love you (passionate/romantic/intense love)
Use this for your husband/wife, it is also used sometimes for children
te quiero → I love you (casual love, everyday expression)
Use this for everyone else - your family, friends and husband/wife in more casual situations
te quiero con todo mi corazón → I love you with all my heart
nos queremos. → we love each other
se quieren → they love each other
lo/la quiere → he loves her or she loves him
Proverbs/Sayings About Love
Love is a common theme for quotes and sayings in every language, but it is especially prevalent in Spanish-speaking cultures. The following sayings are great for expressing your emotions in this sensual language.
El corazón jamás habla, pero hay que escucharlo para entender. → Your heart will never speak, but you must listen to understand it.
Quien bien te quiere te hará llorar. → Whoever you love the most will make you cry.
Hagan todo con amor. → Do everything with love.
Frente al amor y la muerte no sirve de nada ser fuerte. → Faced with love and death, it doesn't help to be strong.
Riñen a menudo los amantes, por el gusto de hacer las paces. → Lovers quarrel often for the pleasure of making peace.
La ausencia es al amor lo que al fuego el aire: que apaga al pequeño y aviva al grande. → Absence makes the heart grow fonder.
La pobreza hace ladrones y el amor poetas. → Poverty makes thieves and love makes poets.
El amor es paciente, es bondadoso. El amor no es envidioso ni jactancioso ni orgulloso. No se comporta con rudeza, no es egoísta, no se enoja fácilmente, no guarda rencor. → Love is patient, love is kind. It does not envy, it does not boast, it is not proud. It does not dishonor others, it is not self-seeking, it is not easily angered, it keeps no record of wrongs.
Como quisiera → How I would like to
poder vivir sin aire → be able to live without air
Como quisiera → How I would like to
poder vivir sin agua → be able to live without water
Me encantaría → I would love to
quererte un poco menos → want you a little bit less
- Lyric from the song,
Vivir Sin Aire, by Maná
Bien tu amor me hace bien → Your love makes me bien
Tu amor me desarma → Your love disarms me
Ay! Tu amor me controla → You love controls me
Me endulza, me encanta → It enriches me, I love it
- Lyric from the song,
Tu Amor Me Hace Bien,
by Marc Anthony
Con decirte amor que otra vez he amanecido, → To tell you my love that I have been reborn
llorando de felicidad → crying of happiness
A tu lado yo siento que estoy viviendo → Next to you I feel that I am living
- Lyric from the song,
Abrázame Muy Fuerte
, by Juan Gabriel
Este amor que tu me has dado, → This love that you have given me
amor que no esperaba, → a love that I never expected
es aquel que yo soñé → is the one that I dreamed about.
Va creciendo como el fuego → It continues to grow like fire
La verdad es que a tu lado → The truth is that by your side
es hermoso dar amor → it is beautiful to give you my love
- Lyric from song,
Amada Amante
, by Roberto Carlos
Famous Spanish and Latin American Poets
Pablo Neruda was a Chilean poet and diplomat and was known for the politically-driven messages intertwined in his writing, as well as for his passionate love poems. Neruda was awarded the Nobel Peace Prize in 1971.
Famous Quotes:
Amo tus pies porque anduvieron sobre la tierra y sobre el viento y sobre el agua, hasta que me encontraron. → I love your feet because they walked upon the earth and upon the wind and on the water, until they found me.
Podrán cortar todas las flores, pero no podrán detener la primavera. → They can cut all the flowers, but they cannot stop Spring.
Si nada nos salva de la muerte, al menos que el amor nos salve de la vida. → If nothing saves us from death, may love at least save us from life
En ti los ríos cantan y mi alma en ellos huye como tú lo desees y hacia donde tú quieras. → In you the rivers sing and my soul escapes into them, as you desire, towards wherever you please
Me gustas cuando callas porque estás como ausente y me oyes desde lejos, y mi voz no te toca. Parece que los ojos se te hubieran volado y parece que un beso te cerrara la boca. → I like you when you are quiet because it is as though you are absent, and you hear me from far away, and my voice does not touch you. It looks as if your eyes have flown away, and it seems as though a kiss has sealed your mouth.
Federico García Lorca was a Spanish poet, playwright and theatre director of the early 20th century, whose poetry focused on themes of romantic love.
Excerpt from poem Romance de la Luna:
In Spanish

La luna vino a la fragua
con su polisón de nardos.
El niño la mira, mira.
El niño la está mirando.
…
Huye luna, luna, luna.
Si vinieran los gitanos.
harían con tu corazón
collares y anillos blancos.
Niño, déjame que baile.

Translated to English:

The moon came to the workshop
with her skirt of white flowers
The boy watches and watches
The boy is watching her
…
Run away moon, moon, moon
If the gypsies were to come
They would make with your heart
White necklaces and rings
Boy, let me dance
Aside from authoring Don Quijote, one of the most celebrated novels in Spanish literature, Miguel Cervantes was also a skilled poet. Many consider him the Spanish Shakespeare!
Famous quotes:
No hay amor perdido entre nosotros. → There is no lost love between the two of us.
Puede haber amor sin celos, pero no sin temores. → There may be love without jealousy, but not without fear.
El amor es invisible y entra y sale por donde quiere sin que nadie le pida cuenta de sus hechos. → Love is invisible and comes and goes where it wants, without anyone asking about it.
The list of Spanish poetry and sayings does not stop here, so make sure you continue to read more examples of these beautiful pieces of literature. You may just want to add one of them into your next carta de amor (love letter)!