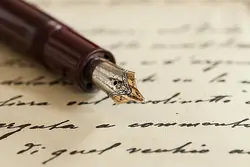 Learning a new language doesn't just have to mean studying grammar and memorizing lists of vocabulary. There are many fun ways in which you can learn, and poems are one of them.
Rhymes in poems can make it easier to remember new words and structures, and they can also help you with your pronunciation. Not only that, but studying poems in Spanish will give you a peek into Spanish speaking culture.
Spanish Poems for Beginners
If you like the idea of using poems to learn Spanish, the following selection is a great place to start.
La Plaza Tiene una Torre - The Plaza Has a Tower
La plaza tiene una torre,
la torre tiene un balcón,
el balcón tiene una dama,
la dama una blanca flor.

Ha pasado un caballero,
¡quién sabe por qué pasó!,
y se ha llevado la plaza
con su torre y su balcón,
con su balcón y su dama
su dama y su blanca flor.

The plaza has a tower
the tower has a balcony
the balcony has a lady
the lady has a white flower.

A gentleman has walked by,
who knows what for!
and he has taken the plaza
with its tower and its balcony,
with its balcony and its lady,
its lady and her white flower.
This poem was written by Spanish poet Antonio Machado, who was born in Seville in 1875 and passed away in France in 1939. Machado is one of Spain's greatest poets, and he lived through some of Spain's most tumultuous times, having experienced both the authoritarian rule of Primo de Rivera and the Spanish Civil War.
Cultivo una Rosa Blanca - I Grow a White Rose
Cultivo una rosa blanca
en junio como en enero,
eara el amigo sincero,
que me da su mano franca.

Y para el cruel que me arranca
el corazón con que vivo,
cardo ni ortiga cultivo
cultivo una rosa blanca.

I grow a white rose
in June and in January,
for the true friend,
who offers his honest hand.

And for the cruel one who tears from me
the heart I live with,
not a thistle nor a nettle do I grow,
I grow a white rose.
This short poem was written by Cuban poet José Martí, a leading figure in not just Cuban, but Latin American literature who lived during the second half of the 19th century. He is considered one of the fathers of Cuban independence from Spain, and many of his poems deal with topics such as freedom and democracy.
Todo Es Muy Simple - Everything Is So Simple
Todo es muy simple mucho
más simple y sin embargo
aun así hay momentos
en que es demasiado para mí
en que no entiendo
y no sé si reírme a carcajadas
o si llorar de miedo
o estarme aquí sin llanto
sin risas
en silencio
asumiendo mi vida
mi tránsito
mi tiempo.

Everything is so simple so
much simpler and yet
even so there are times
when it is too much for me
when I don't understand
and I don't know if I should laugh out loud
or cry out of fear
or be here without tears
without laughter
in silence
accepting my life
my path
my time.
Uruguayan poet Idea Vilariño wrote this poem in 1962. Vilariño is one of the most recognized names in Uruguayan poetry, and she also forged an illustrious career in translation, having translated many of Shakespeare's works into Spanish.
Canción Tonta - Silly Song
Mamá,
yo quiero ser de plata.
Hijo,
tendrás mucho frío.
Mamá.
Yo quiero ser de agua.
Hijo,
tendrás mucho frío.
Mamá.
Bórdarme en tu almohada.
¡Eso sí!
¡Ahora mismo!

Mom,
I want to be made of silver.
Son,
you will get very cold.
Mom,
I want to be made of water.
Son,
you will get very cold.
Mom,
Embroider me in your pillow.
That I will!
Right away!
Federico García Lorca, who wrote this poem, is one of the most outstanding figures in Spanish poetry. Among his many poems, were some songs for children like the one above. Unfortunately, García Lorca, who was born in Granada, Spain in 1898, suffered an untimely death at the age of 38 when he is believed to have been assassinated by Nationalist forces during the Spanish Civil War.
Hay tanta soledad en ese oro.
La luna de las noches no es la luna
que vio el primer Adán. Los largos siglos
de la vigilia humana la han colmado
de antiguo llanto. Mírala. Es tu espejo.

There is so much loneliness in that gold.
The moon of the nights is not the moon
that the first Adam saw. Long centuries
of human vigil have filled it
with an old lament. Look at it. It is your mirror.
This short poem was written by Argentinian Jorge Luis Borges, one of the biggest names in Spanish language literature, and dedicated to Maria Kodama, his widow. Borges lived through most of the 20th century and isn't known just for his poetry, but also for his short stories, essays and translations.
Árbol Adentro - A Tree Within
Creció en mi frente un árbol,
creció hacia dentro.
sus raíces son venas,
nervios sus ramas,
sus confusos follajes pensamientos.
tus miradas lo encienden
y tus frutos de sombras
son naranjas de sangre,
son granadas de lumbre.

Amanece
en la noche del cuerpo.
Allá adentro, en mi frente,
el árbol habla.

Acércate, ¿lo oyes?

In my forehead grew a tree,
it grew inwards,
its roots are veins,
its branches nerves,
its tangled foliage are thoughts ,
your looks light it up,
and your fruits of shadows
are blood oranges,
are flaming pomegranates.

Day breaks
in the night of my body.
Within, in my forehead,
the tree speaks.

Come closer, can you hear it?
This poem was written by Octavio Paz, a Mexican poet who lived during the 20th century. Having won a Nobel Prize in Literature in 1990, he is, without doubt, one of the most respected Spanish-speaking poets of the past century.
Enjoying Poetry en Espanol
The six poems above are meant to help you learn Spanish, but they are also meant to help you see that you don't need to be a fluent Spanish speaker to enjoy the works of some of the greats of Spanish language literature.
As is often said, learning a language is about learning a new culture, and what better way to do that than through literature? Keep learning and keep reading more!