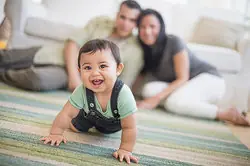 For all expecting parents, baby boy names with hispanic heritage can be both beautiful and powerful. Equally, if you are a male and find yourself in a Spanish language class and are asked to choose a "Spanish name," you will want to choose something that embodies who you are. Here is a list of some of the most popular boy names in Spanish.
20 Popular Boy Names in Spanish
Even though they continue to move up and down the charts, these 20 boy's names have maintained their positions as some of the most popular options over the last five years. Of course, trends in names vary among different Spanish speaking countries as well, but the ones here have broad appeal around the world. This list of Spanish boys' names includes traditional biblical names such as Gabriel and Samuel, as well as more modern ones such as Matías and Adrián.
Mateo
Meaning "a gift from God," this biblical name translates to "Matthew" in English. Mateo has gained lots of popularity over the last 20 years.
Matías
This name comes from Hebrew and means "faithful to God" and is also a Spanish form of the English name "Matthew." Matías has gained lots of popularity, specifically in Argentina, over the last 15 years.
Gabriel
Gabriel was one of God's most famous archangels and is a classic biblical name meaning "the strength of God." Colombian author, Gabriel García Márquez, who wrote Cien Años de Soledad (100 Years of Solitude) along with several other famous novels is one famous person with this name.
Benjamín
A strong biblical name, Benjamín never seems to fall out of favor because it is easily pronounced in many different languages.
Nicolás
Of Greek origin, this strong boy name (written as "Nicholas" in English) is gaining more popularity as it is easy to say in many languages.
Alejandro
This name comes from Greek and means "the defender of mankind." The famous singer Alejandro Sanz and the powerful Greek king "Alejandro El Grande" (or Alexander the Great) share this name.
Santiago
A classic biblical name, Santiago was one of Jesus' beloved apostles. This is a strong, traditional name that has come back into popularity among boy names. The capital city of Chile, Santiago, bears this name.
Adrián
This Latin name means "water" or sea." Several saints and popes have been named "Adrián" and it can be adapted into various languages. By adding an "a" to the end of this name (Adriana) it becomes feminine.
Diego
This is a possible shortened version of "Santiago" but it stands alone as a commonly used first name. Famous Mexican muralist, Diego Rivera, and several famous soccer players have this name, not to mention Dora the Explorer's Spanish speaking friend.
Daniel
Daniel was a Hebrew prophet who appears in the Old Testament. It is a popular name used all over the world which makes it easy for people who speak many different languages to pronounce.
Francisco
This is the Spanish version of the English name, "Francis." Popular historical figures with this name include the Spanish painter, Francisco de Goya and Spanish dictator, Francisco Franco.
Samuel
Being the last ruling judge in the Old Testament, Samuel has a strong biblical background and thus makes it a popular name in many countries and languages. The famous American author Samuel Clemens who wrote under the pen name of "Mark Twain" bore this name.
Julián
This strong name is derived from the Greek name "Julius." The last pagan Roman emperor and philosopher, Julián el Apóstata (or Julian the Apostate) bore this name. To make the female version of this name just add an "a" to make "Juliana."
Lorenzo
This is the Spanish version of "Laurence." Lorenzo de' Medici was the ruler of Florence during the renaissance who is famous for commissioning painters like Leonardo di Vinci and Michelangelo to do work in the city.
Pedro
This Greek, biblical name is the Spanish version of "Peter." Famous people with this name include the renowned Spanish director, Pedro Almodóvar, and soccer player, Pedro Rodríguez Ledesma who plays for FC Barcelona.
David
A name popularized by the underdog story of David and Goliath, David is a popular boy's name all over the world. The famous Spanish pop singer, David Bisbal, shares this name.
Marco
Famous world explorer, Marco Polo, popularized this name which is the Spanish version of "Mark."
Álvaro
Alvaro without the accent is a popular German name but it has gradually made its way onto the top list of Spanish boy names. Famous athletes such as soccer players, Álvaro Negredo and Álvaro Arbeloa have this name.
Carlos
This name is the Spanish version of "Charles" and is very traditional. Musician, Carlos Santana, and Mexican multi-billionaire, Carlos Slim share this name.
Pablo
This name is the Spanish version of "Paul." World-renowned, cubist painter Pablo Picasso, bore this name.
Other Popular Boy Names in Spanish
Although these names are not as common for boys in Spanish speaking countries, they are still strong contenders. Here you will find a variety of classic names like Antonio and Miguel, as well as more modern ones like Dante and Elías.
Ignacio
Fernando
Joaquín
Dante
Rodrigo
Manuel
Felipe
Gael
Vicente
Andrés
Jose
Alonso
Noe
Luca
Tomás
Emiliano
Martín
Antonio
Javier
Rafael
Juan Pablo
Elías
Marcos
Sergio
Eric
Mario
Miguel
Jacob
Esteban
Gonzalo
Eduardo
Agustín
Jorge
Juan
Mauricio
Now that you have a list of some of the most popular boy names in Spanish, you can choose the perfect name for your son or for yourself to use at your new Spanish language school!