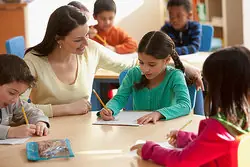 Schools are great places of learning, but for any proper learning to take place, there needs to be good communication. The phrases and vocabulary below should help you communicate in Spanish in all kinds of school-related situations.
A lot of what happens in school happens in the classroom, so let's start with some words and phrases that will help you communicate in this context.
What are some things you might find if you look around a classroom? You'll probably find many of the following:
La clase/El aula - Classroom
La pizarra/El pizarrón - Blackboard/Whiteboard
La tiza - Chalk
El marcador - Marker
El borrador - Eraser (for blackboards)
El escritorio/El pupitre - Desk
La silla/El banco - Chair
La mochila/El morral - Backpack
El libro - Book
El cuaderno - Notebook
El papel - Paper
El lápiz - Pencil
Los lápices de colores - Coloring pencils
El sacapuntas - Pencil sharpener
El bolígrafo - Pen
La goma - Eraser (rubber in British English)
La tijera - Scissors
La cola/El pegamento - Glue
La regla - Ruler
La grapadora/engrapadora - Stapler
El estuche/La cartuchera - Pencil case
So now you know how to name most of the things around you, but you might be wondering about some common learning activities. Here are some common classroom activities in Spanish:
Estudiar - To study
Repasar - To revise
Aprender - To learn
Saber - To know
Hacer los deberes/Hacer la tarea - To do homework
Leer - To read
Escribir - To write
Hablar - To speak
Preguntar - To ask
Charlar - To chat
Dictar - To dictate
Deletrear - To spell
Faltar (a clase) - To miss (school)
Aprobar (una materia/una prueba) - To pass (a subject/a test)
Reprobar (una materia/una prueba) - To fail (a subject/a test)
Prestar - To lend
Tomar prestado - To borrow
Traer - To bring
Common Phrases for the Classroom
It's time to start putting what you've learned together into sentences. Here are some things you might say or hear in a classroom:
¿Qué significa X? - What does X mean?
Saquen sus cuadernos y sus lápices. - Take out your notebooks and your pencils.
Abran sus libros en la página 20. - Open your books to page 20.
¿Quién sabe... (quién descubrió América)? - Who knows... (who discovered America)?
¿Hiciste tus deberes? - Did you do your homework?
¿Entendiste? - Did you understand?
¿Necesitas que lo repita? - Do you need me to repeat that?
Por favor, presta atención. - Please, pay attention.
Para la próxima clase, traigan un cuaderno. - Next class, bring a notebook.
Classrooms might be the heart of a school, but not everything happens in them, so you'll want to expand your Spanish vocabulary with the following words and phrases.
Let's start by looking at the different places in a school:
La escuela/El colegio - School
El gimnasio - Gym
El patio - Playground
El baño - Restroom
El pasillo - Hallway
La biblioteca - Library
La oficina (del director) - (The principal's) office
La sala de profesores – Staff room
El comedor - Cafeteria
La cocina - Kitchen
La enfermería - Infirmary
El laboratorio - Lab
You can also learn the Spanish names for the different people you might find in a school:
Maestro/a - Teacher (Primary school)
Profesor/a - Teacher (Secondary school)
Entrenador/a - Coach
Enfermero/a - Nurse
Director/a - Principal
Alumno/a - Student
Estudiante - Student
Padres - Parents
Padre - Father
Madre - Mother
Some More School-Related Vocabulary
A definitive list of school-related vocabulary in Spanish would be impossible, but there are a few more terms to go over that you probably need:
El almuerzo - Lunch
El recreo - Recess
Las vacaciones - Vacations
La comida - Food
El casillero - Locker
La materia - Subject
La matemática - Math
La biología - Biology
La química - Chemistry
La física - Physics
La educación física - Physical Education
La historia - History
La literatura - Literature
La prueba - Test
El examen - Exam
La nota/La calificación - Grade
You now know quite a bit of vocabulary, so it is time to look at some phrases you could use during different conversations at school.
¡Hiciste un muy buen trabajo! - You did a very good job!
¡Felicitaciones! Haz mejorado mucho. - Congratulations! You've improved a lot.
Debes prestar más atención en clase. - You need to pay more attention in class.
Debes estudiar más. - You need to study more.
Su hijo/a trabaja muy bien en clase. - Your son/daughter does a good job in class.
Los felicito, su hijo/a es muy buen/a estudiante. - Congratulations, your son/daughter is a very good student.
Su hijo/a no hizo los deberes. - Your son/daughter did not complete his/her homework.
Su hijo/a no participa en clase. - Your son/daughter doesn't participate in class.
Su hijo/a reprobó el examen. - Your son/daughter failed the test.
To complement the vocabulary you've learned, you might want to brush up on some other basics, like the numbers and colors in Spanish. Armed with this new knowledge, you should have no trouble communicating with teachers, students and parents alike!