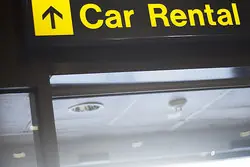 You've just arrived in a Spanish-speaking country and your plan is to spend the week driving through the back roads and small towns at your own pace. Your first stop is the car rental office and although you've rented a car several times in your life, doing it in Spanish may seem a little overwhelming. Keep this guide handy as it's full of essential phrases and vocabulary you will need to rent a car.
Dialogue for Renting a Car
You step into the car rental office and the friendly man behind the counter is patiently waiting for you to start the conversation. Here is a common exchange of the dialogue between a car rental company attendant and a person interested in renting a car.
To get the conversation going, start with:
Renter: Me gustaría rentar un carro/coche? → I would like to rent/hire a car.
Attendant: ¿Tienes una reservación? → Do you have a reservation?
Renter: Sí/no tengo….una reservación. → Yes, I have/No, I don't have...a reservation.
Attendant: Por cuantos dias/semanas. → For how many days/weeks?
Renter: Para….dias/semanas. → For….days/weeks.
Next, the rental company attendant will probably ask you what type of car you would like:
pequeño / compacto → small/compact
mediano → mid-sized
económico → economic
camioneta → van/truck
de lujo → luxury/sedan
deportivo → sports car
When asking about price, use these phrases:
¿Ofrecen un descuento semanal? → Do you offer a weekly discount?
¿Cuánto cuesta por día/semana? → How much does it cost per day/week?
¿Cuánto cuesta el seguro? → How much is the insurance?
When asking about details of the contract, here are some important questions to remember to ask:
¿Cuántas millas/kilómetros por galón/litro da este carro/coche? → How many miles/kilometers does this car get to the gallon/liter.
Ese precio incluye...el seguro y el kilometraje/millaje? → Does that price include insurance and mileage?
¿Dónde y cuándo tengo que devolver el carro/coche? → Where and when do I have to return the car.
¿Tengo que devolver el carro/coche con el tanque lleno de gasolina? → Do I have to return the car with a full gas tank?
¿Hay alguien que puedo llamar en caso de falla/avería? → Is there anyone I can call in case of breakdown/problem?
Lastly, if you want to know specific details about the car you will be renting, here are some common questions:
¿El carro/coche es estándar o automático? → Is the car manual or automatic?
¿El carro/coche tiene aire acondicionado? → Does the car have air conditioning?
¿Dónde está la rueda de repuesto? → Where is the spare tire?
¿Qué tipo de gasolina utiliza? → What kind of fuel does it take?
Vocabulary for Renting and Driving a Car
Here is a variety of useful vocabulary you might need when renting a car and driving in a Spanish-speaking country.
rentar un carro (Latin America) → rent a car
alquilar un coche (Spain) → rent/hire a car
oficina de renta de autos (Latin America) → car rental office
alquiler de coches (Spain) → car rental office
la carretera → road
la autopista → highway/freeway
el cartel → sign
el semáforo → traffic light
el gas/la gasolina → gas/gasoline
el mapa → map
las indicaciones/direcciones → directions
los caminos de cuotas/peaje → toll roads
el estacionamiento → car park/parking lot
el seguro (de automóvil) → car insurance
el número de confirmación → confirmation number
la tarjeta de crédito → credit card
la tarifa diaria → daily rate
la tarifa semanal → weekly rate
los conductores permitidos → allowed drivers
el millaje/kilometraje → mileage
el millaje/kilometraje libre/ilimitado → unlimited mileage
el asiento para niños → car seat (for a child)
el impuesto / IVA → tax
el permiso/la licencia de conducir → driver's license
la firma → your signature
norte → north
sur → south
este/oriente → east
oeste/poniente → west
hacia el sur → in the "southern" direction
girar/doblar a la derecha → turn right
girar/doblar a la izquierda → turn left
vuelta en U → make a U turn
seguir derecho → go/continue straight
Now that you are familiar with common dialogue, questions and vocabulary, you are all prepared to rent a car and go driving through the countryside in your favorite Spanish-speaking country!