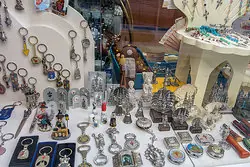 If you are like most tourists, when travelling abroad you probably like visiting local shops and markets to get a few souvenirs you can take home.
If that's the case and you are visiting a Spanish-speaking country, or if you are staying there a bit longer and want to be prepared for getting groceries and other goods, it will help to be prepared with a good Spanish shopping vocabulary. Keep reading to find some useful words and phrases for shopping in Spanish.
The first thing that comes to mind when you think of shopping is probably money. Being able to ask how much things cost is essential if you want to make a purchase. You can review the numbers in Spanish here, but you'll also need some new vocabulary to go with them. Let's take a look at some words and phrases to discuss cost in Spanish.
Money Vocabulary in Spanish
El dinero - Money
La moneda - Coin (this can also mean currency)
El billete - Bill
El cambio - Change
La tarjeta de crédito - Credit card
La tarjeta de débito - Debit card
El cheque - Check
El efectivo - Cash
Los dólares - Dollars
Los euros - Euros
Los pesos - Pesos
El precio - Price
El descuento - Discount
La oferta - Sale
(Muy) Caro - (Very) Expensive
(Muy) Barato - (Very) Cheap
Phrases to Discuss Cost in Spanish
Disculpe... - Excuse me...

¿Cuánto cuesta/vale? - How much does it cost?
¿Me puede hacer un descuento si compro dos? - Can I get a discount if I buy two?
¿Cuál es el precio más bajo que me puede dar? - What is the lowest you can go?
¿Tiene descuento con alguna tarjeta? - Do you offer a discount with any cards?
¿Aceptan tarjetas de crédito? - Do you take credit cards?
¿Cómo va a pagar? - How would you like to pay?
¿Paga en efectivo? - Will that be cash?
Ingrese su PIN, por favor. - Please enter your PIN.
Firme aquí, por favor. - Please sign here.
Of course, discussing cost isn't everything. Before you get there, you will need some vocabulary to find what you're looking for.
¿Dónde hay...? - Where is there a...?

Un centro comercial/Un shopping - Mall
Un supermercado - Supermarket
Una tienda - Store
Una feria - Street market
Una panadería - Bakery
Una carnicería - Butcher
Una farmacia - Pharmacy
Una boutique - Boutique
Una ferretería - Hardware store
Una librería - Book shop
Una papelería - Office supply store
Una juguetería - Toy store
Una zapatería - Shoe store
¿Dónde puedo comprar...? - Where can I buy...?

La comida - Food
El agua mineral - Mineral water
Los medicamentos - Medicine
El protector solar - Sunscreen
El maquillaje - Make up
La ropa - Clothes
La camisa - Shirt
El traje de baño - Swimsuit
El sombrero - Hat
Los zapatos - Shoes
Los juguetes - Toys
Los souvenirs - Souvenirs
Las artesanías - Crafts
Las postales - Postcards
La lapicera - Pen
El lápiz - Pencil
El papel – Paper
Los sellos – Postage stamps
Asking for what you want
Sometimes, finding the right store might not be enough. You may need to ask around before you get the exact product you want. The following phrases should help you do just that:
Me gustaría comprar... - I would like to buy...
¿Tiene...? - Do you have...?
¿Lo puedo ver? - Can I see it?
¿Lo tiene en otro talle/color? - Do you have this in another size/color?
¿Lo tiene en...? - Do you have this in...?

Pequeño - Small
Mediano - Medium
Grande - Large
Extragrande - Extra large
Rojo - Red
Azul - Blue
Amarillo - Yellow
Blanco - White
Negro - Black

¿Tiene otro modelo? - Do you have a different model?
No nos queda. - We ran out.
Me gusta. - I like it.
No me gusta. - I don't like it.
¿Me lo puedo probar? - Can I try it on?
Me queda grande. - It's too big on me.
Me queda chico. - It's too small on me.
¿Tiene un talle más grande/chico? - Do you have a bigger/smaller size?
¿Tiene otra marca? - Do you have a different brand?
¿Tiene uno más barato? - Do you have a cheaper one?
All of this new vocabulary should help you shop around any Spanish-speaking country comfortably, but, whatever you do, never forget the two magic phrases: por favor y gracias (please and thank you). Happy shopping!